sing song sing along..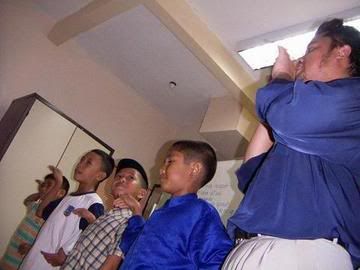 We had our last IEP session before the school break last friday. At first we wanted to do some sort of recap of last week's story telling bit, but it turned out that most of the kids conveniently forgot to their assignment. After a stern (not la that stern i think, i dunno i 'conveniently' arrived a bit late) telling off by kak sheri the kids were all intent in making up for it in this week's session.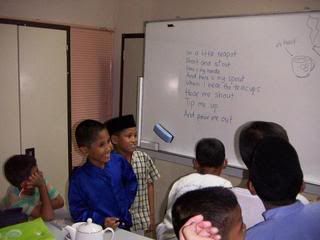 Eyeda started off by jotting the lyrics to this one song on the whiteboard. The song was quite the hit back then in the Kindergarden Hot 100 list. Its the 'little teapot' song. Anyways, we started with just a simple reading of the lyrics, making sure the kids were able to understand the whole thing.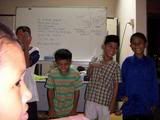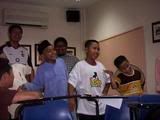 Then we decided to split the kids into two groups. One group, Sharkawi and the Zebras, and the other one, The Best Boys. Then we had a little Rumah Ilham Idol showdown with the groups singing and showing off their moves.
At the end of the day, the judges were united in picking Sharkawi and The Zebras as the winner.
After that the roles were reversed when we had the abangs and the kakaks facilitators to show off their singing skills.
The kakaks won this showdown hands down.