how do you describe a...
... monkey? what colour is a monkey? how many hands and legs does a monkey have? what does a monkey like to eat? does a monkey have a short or long tail?
this was what we did with adik2 ilham last night.. Keena prepared some words on animals and games i.e. monkey, elephant, turtle etc and badminton, rugby, basketball etc and we asked adik2 to describe these animals/games in their own words.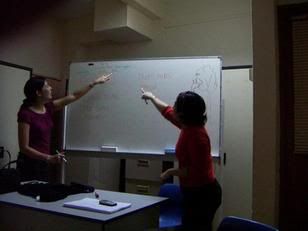 at first i wrote the words on the board and keena started drawing.. after a complete picture of a girrafe, we kinda switched roles ;op hehehe.. but even after switching roles with keena, somehow we still got the kids confused - zafiq said my monkey had a beak!! hahahah
(and i thought it looked more like homer simpson than a 'bird' with a 'beak'..)
heheheh oh well - maybe kakak2 & abang2 should go for drawing classes huh?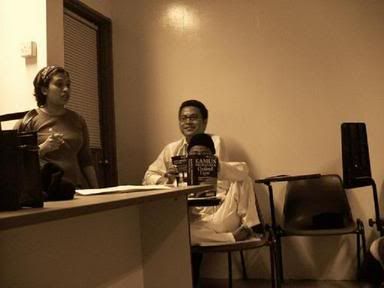 i was happy to see the adik2 holding a dictionary each to themselves.. a few of them were 'racing' with each other, looking for the words to describe these animals/games so that they can tell us the answers!! i hope they will make it a habit to refer to dictionaries whenever they're stuck on a word :o)
Keena also prepared some homework for them to do during the holidays - and knowing the boys, if the work is from Kak Keena,
mestilah buat punya!!
hehe at least there's a motivation there for the boys ;o) well done Keena for the preps!! :o)


also, it was good to see new faces last night.. hope you guys will drop by more often in the future!!

thanks for a great night with the kids..