Draw it and Arrange it!
After all the fun the kids had at the starlight cinema, it was back to another one of our regular sessions at ilham! After the movie treat, we figured that the kids would be as psyched as we were to resume class, especially since 2 of the previous ilham classes had been cancelled. And so they were. This week, it was the storytelling session (I, myself had personally enjoyed listening to storytelling when I was small, especially since I could let my imagination run wild and picture myself as one of the characters which more often than not, happened to be a princess hehe).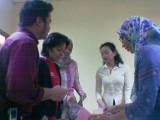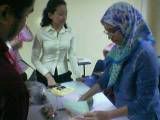 BUT, instead of having one of the kakaks of abangs to tell the story in front, it was the kids who had to rearrange the storylines so that they would all fall nicely into one big story. This was how it went. Abang Acat and Kak Ana had nicely disarranged 3 nursery rhymes/songs: The Little Teapot, Jack and Jill, and Humpty Dumpty, into scattered order and spread the parts of the stories into small cards which contained one sentence each. As there were 3 stories, the kids were divided into 3 groups whereby 1 group was assigned with 1 story. Each of the groups was supposed to rearrange the cards so that they would become one big story.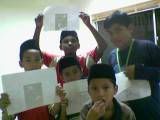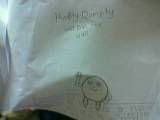 The tricky part was that since the cards were scattered within the 3 groups, they had to go around and ask if the other groups had the card that contained their story. For example, if group 1 was assigned with Jack and Jill, the kids within the group had to go around and ask if the other 2 groups had any cards that contained Jack and Jill sentences. Once this was done, they had to draw out the story according to what was contained in the cards.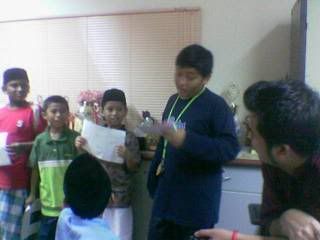 Therefore, if a story had 4 cards, there would be 4 different drawings for each card. Finally, each of the groups had to present to the class their story together with their drawings. This part was really interesting as we got to see their drawing skills, and some of the drawings were really funny too!

So that was another night at Ilham..
Signing off, Diyana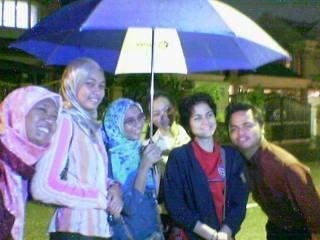 the abang and the kakak-kakak :) outside Inas' house