Jumbled Up!!
nernid
unchl
uijec
tatpoo
febarkast
hehe.. can u guess those word?
We played a game with the boys.. the theme was 'Meals & Food Stuff', which we got off their textbook.. This time the boys had to answer individually with little assistance from their fellow friends. When the words were too difficult, they were given clues and hints from Abang Khalid and the Kakak-kakak..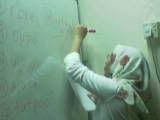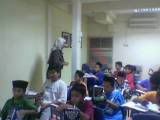 Kak Aidah and Kak Oza took lead this week (after Abang Khalid & Kak Naz gave some 'reminders' to the boys about importance of learning and reviewing.. once in a while the boys do need a little bit of reminding, for their own good..)
At the end of class - Abang Khalid came up with a rap song entitled: "Kita tak makan INI - We only eat THIS" hehe good one Acat!!
Answers to the jumbled words above:
nernid - dinner
unchl - lunch
uijec - juice
tatpoo - potato
febarkast - breakfast